One aspect of versatility found in the Miller Industries line of medium-duty integrated wreckers is a superior amount of usable hook height on the recovery boom.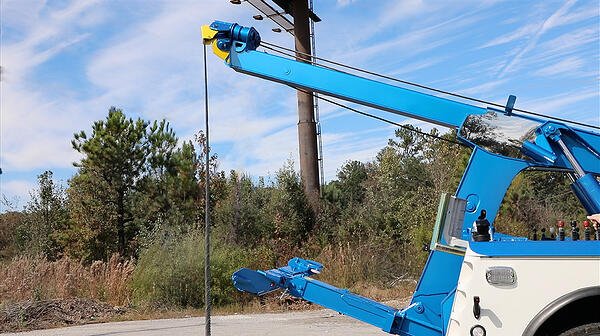 When the recovery boom is fully elevated and extended, the boom end extends well past the tailboard of the truck.  This translates to effective recovery ability when dealing with a situation where your wrecker boom needs to reach out over a guard rail on the side of the highway.  In a pick/pull scenario, where one recovery line goes out to the casualty and back to the boom end with the other line going down to the tailboard and then out to the casualty, the usable hook height provides more leveraging in the working area.  This usable hook height also translates to an increased working area between the wrecker and the casualty giving the operator more versatility when positioning to the casualty for the recovery.
  Whether your obstacle is a road-side guard rail or upward elevation on an embankment, the additional usable hook height provides more versatility to get the job done.   Another great standard feature on our medium-duty wreckers is the hydraulic rear stiff-leg style jacklegs.  These jack legs help to keep the wrecker stable during lifting recoveries.